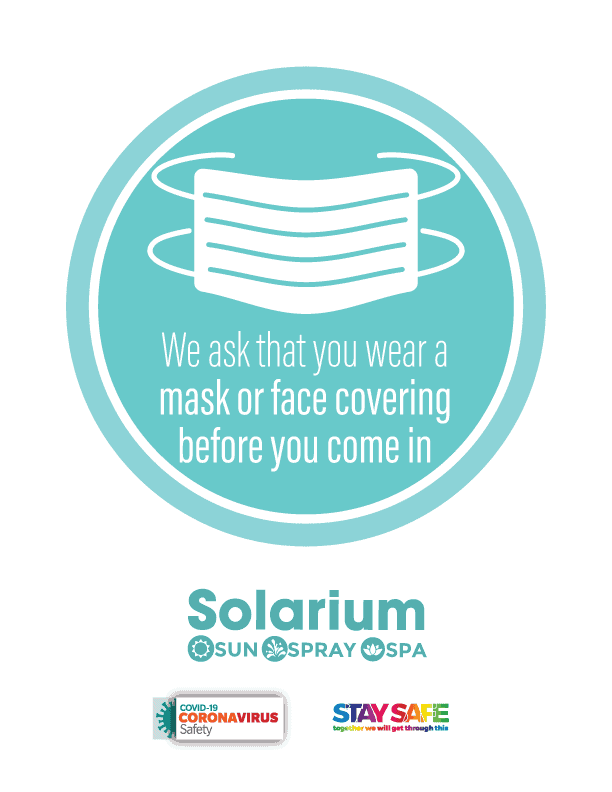 On this page is a full and detailed posting of all the steps we are staking for your safety.
Here is a summary of what we ask of you when you visit us:
By Appointment Only.

Any client who arrives without an appointment will not be able to enter the building.

Please wear a facemask before you enter and until you are alone in our spa or tanning room and then while leaving.
The current limit is 10 people in the building at a time.
Stand on the 6 feet markers indicating the proper separation distance between people.
Please do not approach the front counter keep 6 feet distance.
If we have reached our social distancing capacity we will post a sign
reading "PAUSE".  If you see this, please return to your vehicle and wait until the sign has been removed to enter again.
No guests. They will have to wait at home or in your vehicle outside the salon.
Bring your own towel and water if you are doing a spa service as we will not be offering: towels, robes, or water of any kind at this time.
Most importantly if you are ill, have been ill, or around someone who has been ill, wait AT LEAST 14 days before coming in for an appointment. It's important for everyone to know that you are healthy when you visit us.
Thank you for your business.
This is our current new normal and we hope you understand we are taking these steps with your safety in mind and in coordination with and with the recommendations of the CDC, our state health officials, and local health officials for the safety of our customers and their families and our staff and their families.
As we add or modify our safety procedures, and or remove rules, it will be displayed here first.